Satisfaction Guarantee
Our guarantee guidelines: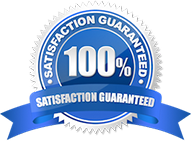 We value each and every customer and appreciate your business. Here's our commitment to you.
We will do our very best to exceed your expectations of a cleaning company
"When you call us, we'll call back." Today if we can, but no later than tomorrow. Its our 24 hour call back policy. (Excludes Sunday's and Holidays.)
"We want to know it's right." If you have a problem with our services please let us know immediately and we will do our very best to resolve any issue within 48 hours.
The anti-"no-show" policy: Nothing is more annoying than being stood up by a Service Company. If we fail to show up in the scheduled time frame without calling prior to reschedule we will apply a 20% discount to your next invoice.
We are fully tax compliant and have the required Public, Employer and Contractor All Risk Insurances in place.